Ruby 1.9: What To Expect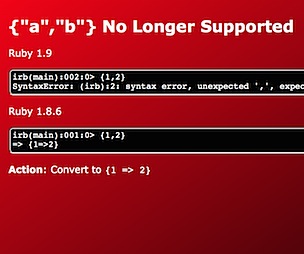 Ruby 1.9: What To Expect is an online slideshow by Sam Ruby that covers a lot of the differences between the Ruby 1.8 that we all know and love and the currently experimental Ruby 1.9. Sam's examples are to the point, easily digestible, and span 47 slides. He gave the original presentation at OSCON in Portland a couple of weeks ago.
Sam's presentation is quite similar to "Migrating to Ruby 1.9" by Bruce Williams which we posted about in April. It never hurts, however, to frequently revise the changes since Ruby 1.9 will be production-ready in just four short months..!
(Note: A couple of readers - see comments - have reported slightly odd goings-on when visiting the slideshow page, so if you have 1001 tabs open that you don't want to lose, take care!)
Post supported by Brightbox: Brightbox is a specialist European Rails hosting company. Each Brightbox server includes an optimised Ruby on Rails stack, SAN storage and access to a managed MySQL database cluster. They also manage dedicated clusters for large scale Rails deployments. Click here to learn more...