Ruby and Rails Graphics and Buttons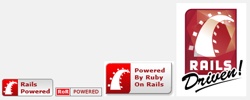 Kelli has posted four different Rails buttons on the Ruby on Rails Forum (shown above) that you can use anywhere you like.
In the same spirit, I've put together four "Ruby Inside" graphics you can also use where you like. They're not ads for this blog, so you don't have to link back to here with them (though you can if you like!) but they're more to demonstrate that Ruby is in action on whatever you use them against. Like "Intel Inside", etc.
Big JPEG:


Big PNG (transparent - will work on any color background):


Small JPEG:


Small PNG (transparent):