RubyFringe Shaping Up; 6 Hours Left To Register!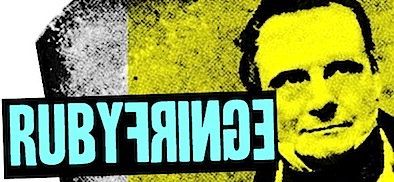 RubyFringe, a rather progressive and brave addition to the Ruby / Rails conference scene, taking place in Toronto, Canada in July will be closing its registration doors in just six hours. When registration initially went live, four months ago, there were many complaints of the conference being overpriced, but despite this, only a handful of tickets (certainly less than 20, I'm told) now remain and an exciting schedule is shaping up. A separate "track" for travel companions / significant others is taking place so that anyone can go to the conference without abandoning their loved ones while they geek out on Ruby all day.
As promised, RubyFringe has no sponsors and is focused not only on the cutting edge, exciting areas of Ruby, but on radical presentations and unheard-of levels of detail in the ancillary events. Live music and entertainment is being provided, a brewery and an art gallery are being rented, and parties are taking place each night, with free bar and food throughout. Some intriguing talks are already lined up from people such as Chris Wanstrath, Ezra Zygmuntowicz, Jeremy McAnally, Tobias Lütke, John Lam, Obie Fernandez and Geoffrey Grosenbach. Lastly, a separate FailCamp being run by Amy Hoy and Thomas Fuchs will be taking place before the opening party. More information to come soon from those guys.
It seems like this rather brave attempt at an unusual, high adrenaline Ruby conference is going to work out quite well, but even if it doesn't, it appears it will provide a lot of significant talking points within the Ruby community in July. If you've been waiting to see who's going or whether it would even go ahead, wait no more, go and register.
Update: On a similar note, the registration for RailsConf Europe has just opened. Oh, and The Ruby Hoedown (Huntsville, Alabama in August) too.
(Note: I wanted to post about this earlier, but a family emergency has put me out of action for several days. This is why the Ruby Inside schedule has slipped. I'm getting back on top of it and wish to apologize for the gap. Disclaimer: I have no financial connection to this conference.)