The Rails Way by Obie Fernandez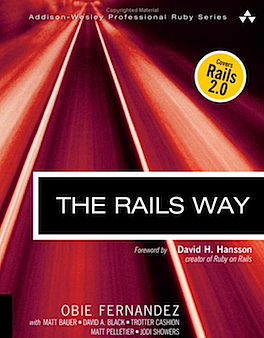 The Rails Way by Obie Fernandez (published by Addison Wesley) is a long awaited book billing itself as the "expert guide to building Ruby on Rails applications." More precisely, the book dives into nearly every area of the Rails libraries and APIs and acts as a reference work for them. Coming in at about 850 pages, the book is physically very similar to The Ruby Way by Hal Fulton. There's no denying that these two books look good next to each other on the bookshelf, and a lot of comparison can be made between the two.
One of the things I love about Fulton's The Ruby Way is how the book is divided up into chapters covering discrete topics like strings, regular expressions, math, IO, threads, and so on, and then each chapter drills down into twenty or more sections each looking at a different aspect of that topic. The Rails Way veers away from this interesting, cookbook-y style towards a drier, reference book approach. The book is also not broken up into the tidy parts familiar to The Ruby Way readers. For example: REST gets one chapter, but ActiveRecord spans four. Routing is covered in two non-consecutive chapters, leading to an over-reliance on the index or table of contents to find your way around the book.
The differences in pedagogy and writing style between The Rails Way and The Ruby Way are vast, so don't expect similarity. It's possible for a novice Ruby programmer to pick up The Ruby Way and gradually work his way through the book, learning much on the journey, as Fulton covers object orientation principles in chapter 1, before moving onto strings in chapter 2, before diving into the meta-programming voodoo the book is famous for. Each chapter helps build on the last. The Rails Way, in stark contrast, spends its introduction explaining why Rails is so great, without explaining what, exactly, Rails is, and tells us that David Heinemeier Hansson doesn't like being called DHH. Chapter 1 then immediately looks at how the environment and configuration system in Rails works. The content itself is very good, but it's most certainly an "expert guide" as it claims, with little of use to people merely wandering into Rails. It's not a book you journey through from start to end - like Fulton's - but one you pick at over time as an expert.
There's no avoiding that The Rails Way is a reference book, and a good one. If you added a beginner's / tutorial chapter to the start, The Rails Way is what Agile Web Development with Rails should have been. The content is good and Fernandez takes care to cover Rails 2.0, with the book being quite up to date in that regard. This is certainly a book that any expert Rails developer would appreciate on their shelf, unless they were extremely proficient at using online references, but one that novice Rails developers should leave on the wish list for fear of being overwhelmed.
As an aside for detail-obsessed readers, the foreword of the book, written by DHH, is curious. It reads as if the publisher didn't want it to be edited. There's a typo in the very first sentence (and I have not found any others in the rest of the book so far), and the rest of it reads rather clumsily. A last minute rush, possibly?