The Last Week in Ruby: Rails 3.1.1, Sinatra Recipes, Spree Gets Funded and more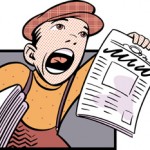 Back in 2008 and 2009, Ruby Inside had a long line of "Interesting Ruby Tidbits That Don't Need Separate Posts" posts, aimed at sharing a collection of news and libraries in one hit. In the last year, I've shifted Ruby Inside to focusing on less frequent tutorials or investigative features and have been putting all of the news on Ruby Weekly, my weekly newsletter.
There are still many, though, who would prefer to read the news in their RSS readers or on the Web, so I'm going to be taking the things I find for Ruby Weekly each week, doing a little reformatting, and sharing them here on Ruby Inside too. The longer articles will then slot in nicely in between :-)
So here we go, starting off from Ruby Weekly issue 63. You can check out the full 63 issue archive, if you like, or even sign up for Ruby Weekly here if you weren't familiar with it. Or, of course, stay here on Ruby Inside and get the same (or more) each week - it's your choice!
Without further ado..
Headlines
Articles and Tutorials
Presentations and Videos
Libraries and code
Ruby Jobs of the Week
Last but not least..