New Relic: A New, $3.5 Million Funded Player in the Rails Application Monitoring Space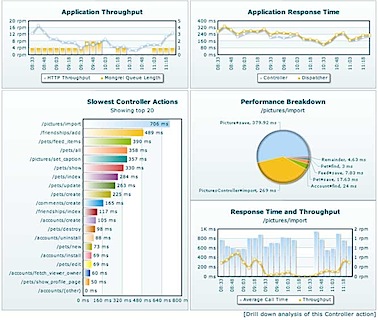 New Relic is a new entrant into the nascent Ruby on Rails® application monitoring market, so far dominated by FiveRuns. The company has just taken $3.5 million in first-round venture financing from heavyweights Benchmark Capital. Rather impressively, New Relic has already been featured on TechCrunch, where writer Mark McGranaghan notes that New Relic's founder, Lewis Cirne, previously ran a similar company in the Java space.
New Relic's primary product at this time is "RPM," a subscription-based Rails "Performance Management" solution. It provides useful information that Rails developers can use to quickly detect, diagnose and fix application performance problems. There are a lot of pretty graphs and charts on the RPM product page from which you get an idea of what sort of information it presents.
It is worth noting, however, that FiveRuns' RM-Manage appears to provide more features at the moment, although without knowing New Relic's pricing, it may still be better value depending on your needs. RM-Manage not only provides live Rails application monitoring, but also overall server monitoring (including OS, database, Web daemon, swap usage, etc.), as well as triggers and events to automatically notify you of changes or issues. I've also heard from a credible source that FiveRuns has some exciting new enhancements in the pipeline, due to be unveiled at RailsConf.
New Relic's launch is newsworthy, however, not only because of the investment (something matched in the Ruby / Rails scene by FiveRuns and Engine Yard) but because the hype surrounding its launch demonstrates that both the press and investors are now seeing plays in the Ruby and Rails space as serious business rather than quirky gambles.