Winners of "Troubleshooting Ruby Processes" Announced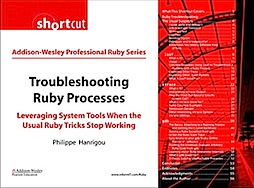 Two weeks ago we ran a contest where you could talk about the sort of Ruby books you'd like to see available and have a chance to win one of three copies of "Troubleshooting Ruby Processes" by Philippe Hanrigou. The three winners are CptOatmeal, Andrew Simard, and Raju Gandhi who will each receive a copy via e-mail from the publisher shortly. I'd like to thank everyone who commented.. there were 56 comments in all and tons of amazing book ideas. I wouldn't be surprised if you saw the publishers announcing books along the lines of the suggestions soon!
Staying on the topic of Troubleshooting Ruby Processes, author Philippe Hanrigou was recently interviewed by Pat Eyler of On Ruby. They went into depth on topics like DTrace and debugging JRuby applications. Pat also wrote his own review of the book.