3 Copies of "Troubleshooting Ruby Processes" To Win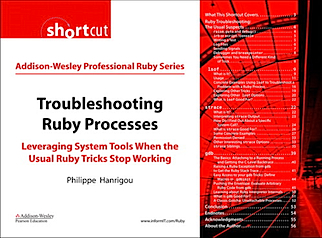 Troubleshooting Ruby Processes is a "digital short cut" (i.e. an e-book) written by Philippe Hanrigou and published by Addison Wesley. Unlike most Ruby books, my own included, this one really digs into its topic and looks quite low down at how Ruby processes interact with the operating system. While some of the topics are deep, however, the book is only 56 pages long, so it's a useful book to read to learn why problems occur and which tools to solve the problem, even if you're not going to be able to write a dissertation about it. Tammer Saleh of Thoughtbot wrote a review if you want to learn more.
In collaboration with Addison Wesley we're offering three copies of Troubleshooting Ruby Processes to win in a Ruby Inside contest. To enter, post a comment here with an explanation / example of the sort of Ruby book(s) you'd like to see published in the future. No idea is too crazy. Three commenters who provide the most worthwhile or interesting ideas, along with an e-mail address in the relevant field, will be chosen at random to receive a copy of the PDF. And, no, Addison Wesley didn't suggest this topic for market research or the like.. I'm personally interested to see what people want and, you never know, it might get me writing..!
Note that e-mail addresses provided in the "e-mail" field on Ruby Inside comments are not published, not given to anyone, and, well, not really used at all, except for me being able to get in touch with you. That said, if you like you can use a temporary address!
For completists, the topics covered in Troubleshooting Ruby Processes are shown in this shot of the contents: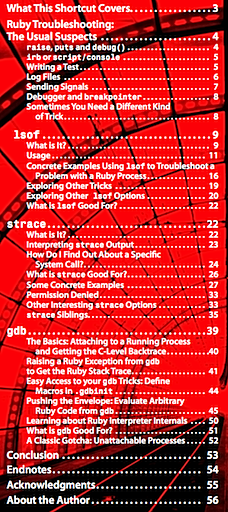 Note that if you're a member of the Safari book subscription site, the short cut is available to read there with your existing subscription.
Another Contest!
Finally, if contests are your thing right now, check out Pat Eyler's contest to win any three Apress books of your choice! Currently there's only one entry, so you're in with a good chance, and you have until Christmas to enter.