27 Video Presentations from RubyKaigi 2010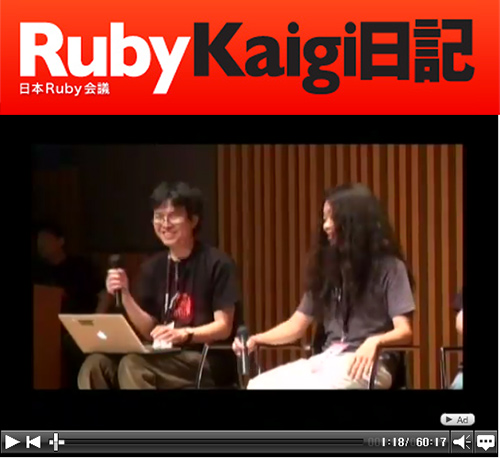 RubyKaigi is Japan's "home" Ruby conference and the organizers have just put 27 videos from the RubyKaigi 2010 conference online. Unfortunately I can't link to them individually as they're embedded on a single page, so head over to rubykaigi.tdiary.net and check them out.
Presentation titles include: Ruby 2.0, Ruby API is Improved Unix API, Rocking The Enterprise With Ruby, Mapping the World with DataMapper, The Necessity and Implementation of Speedy Tests, A Metaprogramming Spell Book, Conflicts and Resolutions in Ruby and Rails, and User Experience for Library Designers.
Two caveats: 1) Be aware that some of the presentations are in Japanese (unsurprisingly) although most of the slides include English and, of course, any Ruby is still readable. There were also several English language speakers including Sarah Mei, Carl Lerche, and Jake Scruggs. 2) The player/hosting for the videos seems to be super slow. Give it time and they'll load.
[jobs] Engine Yard are hiring! Did you know that Engine Yard - one of the biggest and brightest companies in the Ruby world - are hiring? They have Ruby Engineer and Ruby App Support Engineer positions open in San Francisco.