Adhearsion: Ruby Framework for Sophisticated VoIP / Telecoms Applications

Adhearsion is an open-source, telecommunications application framework that uses Ruby, coupled with Asterisk, the popular open source telephony platform. It lets you build telecommunications systems and scripts in a quick and powerful way: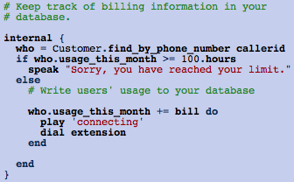 Creator Jay Philips has written a chapter for O'Reilly forthcoming "Asterisk: The Future of Telephony" about Adhearsion, and O'Reilly have published an extended excerpt of it online. It covers the installation of Adhearsion, basic script writing, database integration, and how to put together "micromenus" that operate in a vendor-independent fashion.
Learn more about the framework at the official Adhearsion site, and enjoy twisting together your phone system with a little Ruby!