Waves: A New Rails-like Web Applications Framework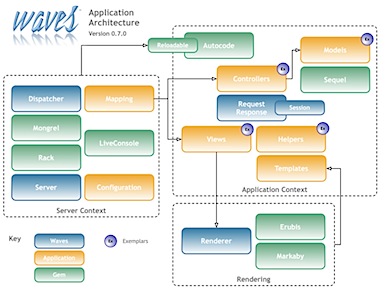 Ruby Waves is a new Web application framework for Ruby, developed by Dan Yoder. On the surface, this makes it seem "Rails-like" but Waves is billing itself as a "next-generation" framework, a cutting edge Rails-inspired framework, if you will. Dan says that Waves is "not a better Rails" but the realization of an evolution of the ideas behind frameworks like Rails. For example, Waves supports request lambdas (mapping a request to a block, rather than a URL pattern to a controller and action), just-in-time resources, nested layouts, and hot-patching. Waves is also thread-safe.
Dan has done a great job at documenting Waves, with a screencast, tutorial, and a bumper-packed official site all ready to go. The tutorial (the creation of a simple blog system, as usual!) demonstrates that creating a basic app is actually even easier than under Rails, although some of the techniques will seem initially unfamiliar.
It'll be interesting to see if new, superior, ultra-flexible frameworks like Waves catch on, with the amount of support and motion currently behind the incumbents: Rails and Merb.
(Note: Dan has been interviewed by Robert Bazinet of InfoQ. It's worth reading to get an idea of Dan's motivations and where he sees Waves going in the future.)