Engine Yard Gets $15m Cash Injection; Buys Enough Red Bull To Keep The Lead For 37 Years?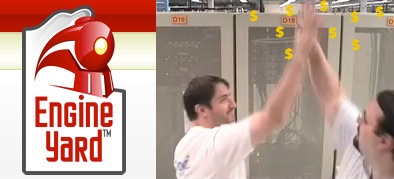 Engine Yard, probably the first major Rails-focused hosting company, has today taken a second round of finance of $15m. This second round, from Benchmark Capital, Amazon.com, and New Enterprise Associates, follows on from January's $3.5m from Benchmark.
So where will the money go? Ezra Zygmuntowicz says:
We're going to use this money towards making Ruby the platform of choice for cloud computing and web development in startups and the enterprise alike.
This assertion is without doubt, as Engine Yard continues to fund and support the development of Rubinius and Merb, and supports several popular Ruby and Rails sites with sponsorships. A $15m round for Engine Yard also helps validates the business models surrounding Rails, in a similar way to New Relic's $3.5m funding round in May.
Personally I am convinced that a significant part of Engine Yard's strategy will involve spending the cash on Red Bull in order to keep Engine Yard operating more quickly than the competition. At $2.50 a can, and the current complement of 80 employees, this works out at 75,000 cans of the amber nectar each. At a work-inducing 8 cans each work day, we're looking at about 37 years' worth of Red Bull to keep Engine Yard ahead of the pack.
To close, Ezra has shared some initial info regarding a new Engine Yard project called Vertebra that's worth keeping a look out for:
We've also been delving into the cloud computing arena as I think the next 5 years are going to see huge transition from standard hosting models into the cloud. Our upcoming Vertebra project is a new application programming platform for building distributed cloud applications with XMPP. You can expect to see the first open source release of Vertebra this summer, I think this is a truly unique and very fun project to work on.
Let's hope Engine Yard's newly acquired cashpile will be enough to get them through the recession and become highly profitable as this area takes off.
(Semi-disclaimer: Engine Yard sponsors RubyFlow, a sister site of Ruby Inside.)