Ruby Inside Job Board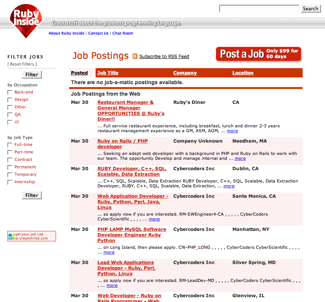 Yes, there is now a Ruby Inside job board. First off, sorry! There are a lot of job boards out there, and it's a saturated market, but.. this job board has a twist. It's backfilled with lots of great Ruby jobs from all sorts of companies, so even though there are no Ruby Inside specific postings yet, there are already scores of jobs to look through. They tend to be more commercial than those you'll find at other Ruby job sites, so dive in.
More importantly though, rather than just paying for an ad that lasts a few weeks, the Ruby Inside job board gives you sixty days for $99 and your job will be featured in a unique, permanently archived post here on Ruby Inside. That means you get your job right in front of thousands of subscribers, rather than whoever decides to float into the job board. No other Ruby job board offers that! I know that hundreds of the absolute top-notch Ruby and Rails developers read this blog, and while a lot of them might be a great fit for your position, they're not trawling through jobs boards! This solves that.
However, it's not just "wham, bam, thank you ma'am", I'll be giving you a mini interview for your post so that readers can learn about who you are, what your job entails, and how much you "get" Ruby. Putting jobs on Ruby Inside is okay, but only if it feeds back interesting content that people are going to want to read. So.. $99, 60 days on the job board, and an interesting feature post here on Ruby Inside. If that interests you, sign up at the job board and get in touch with me afterward.