6 Ruby and Rails Job Sites
I keep getting e-mails about job sites, Ruby jobs, and so forth, so I decided it's time for a bumper "here are all the Ruby and Rails job sites" post! Enjoy..
2009 update: I've had to remove a few as they no longer exist any more - so there are not 6 here ;-)
First off: The Ruby Inside Job Board. There are lots of great jobs there - entirely up to date (as of August 2008) - vacancies from companies like TechCrunch, Scribd, and others. However, all the jobs on our job board are based in the United States only.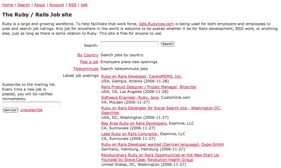 RubyNow - http://jobs.rubynow.com/
Free to post jobs, and extremely popular (one or two new jobs every day, usually). Has a useful search feature and a mailing list to receive all new jobs in your Inbox.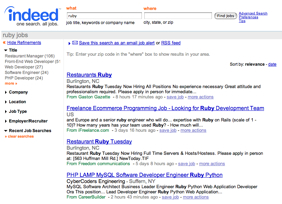 Indeed.com - http://www.indeed.com/jobs?q=ruby
Indeed is a generic job search site, but it's not bad for finding Ruby jobs. You are more likely to find jobs from bigger companies and less 'grass-roots' type offers here. This may or may not be what you're looking for.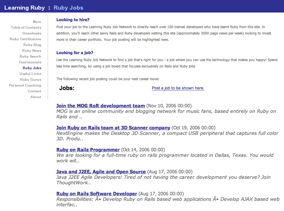 Learning Ruby - Ruby Jobs - http://rubylearning.com/jobs/ruby_jobs.html
A few sites seem to be sourcing job listings from a service called "JobCoin", but Satish Talim's page is the first one I found. There aren't a large number of jobs, but a reasonable variety.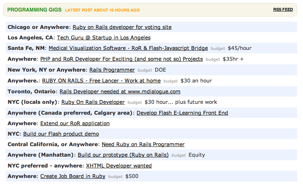 37signals Job Board and Gig Board - http://jobs.37signals.com/ and http://gigs.37signals.com/
These are the 'big daddy' of the jobs boards and cost $300 for 30 days and $100 for 30 days respectively. There are less Rails and Ruby related posts than there used to be, but most of the programming gigs on the gigs site are Rails related in one way or another. They're posted by employers who are putting down good cash to be listed, so are less likely to be timewasters.