Ruby Inside Gets Redesigned; Gets Twittering; and Three New Writers Come On Board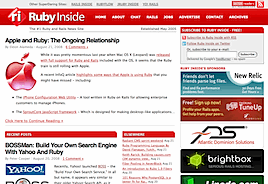 New Design
Till yesterday, Ruby Inside had been sporting the same tired design it had since launch in May 2006, but no more! Ruby Inside now has a more up to date design that focuses more on getting access to great Ruby (and some Rails) content from both Ruby Inside itself and other sites (like Ruby Flow).
If you only read Ruby Inside through the full text feed, please visit the site directly just to give it a look - pretty please? :)
Follow RubyInside on Twitter
The new design you see today is only step one of a longer-term process to make RubyInside.com more useful for all Ruby and Rails developers. Another step has been creating a RubyInside Twitter account. Now, if you prefer, you can follow Ruby Inside directly from your Twitter account or cellphone. Alternatively you can subscribe by e-mail. You'll receive one e-mail a day max and it'll feature the new posts from the current day. See the new front page for more details.
Three New Writers
As part of staying on the pulse of the latest Ruby and Rails happenings, three new writers have come on board to help both Ruby Inside and Rails Inside going forward. They are Zach Inglis of Hashrocket, Shalev NessAiver, and Eldon Alameda (known as the author of Practical Rails Projects). You'll see and hear a lot more about them soon, but please welcome them to the team. Thanks to all 18 people who applied for these positions - I was genuinely surprised by the response and touched by a lot of the nice comments.
Suggestions?
If you have any comments or suggestions regarding the new design, things you'd like to see on Ruby Inside or Rails Inside, or the like, please leave them here, or visit our new Contact page to get in touch with us. Here's to another solid two years with Ruby Inside (and if you're interested in Rails - don't forget to subscribe to Rails Inside too, as most Rails content will be over there in future!)