Ruby Rogues: A New Ruby Podcast with 5 Ruby Rascals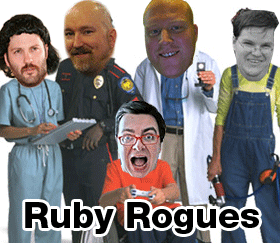 I haven't posted in a long time. Oops. But I have good (and soon to be exciting) reasons! Anyway, it all kicks off again right here with the announcement of a new Ruby podcast I've become involved in - it's called Ruby Rogues.
Ruby Rogues is a new Ruby podcast chaired by Charles Max Wood (of Teach Me To Code fame) and featuring David Brady (Tourbus), James Edward Gray II (Ruby Quiz), Aaron "tenderlove" Patterson (of Nokogiri, Ruby core and Rails core fame), and me. It's recorded each Thursday (though there's only one episode so far) and, over time, the line up will probably vary a bit due to our various conflicting schedules.
The idea came together quickly and the first episode is pretty scrappy (sorry about the audio but I think Charles is working on it for future) but the general concept is that five Rubyists get together and debate and share opinions on a specific area of Ruby or Rails development. At the end of the show, we then go round and share something interesting we've found or learned that week.
In episode 1, we discussed testing libraries and tools and shared our opinions and experiences with things like Test::Unit, RSpec, Cucumber, and testing concepts generally. Without spoiling the episode too much, I was surprised to discover that these guys had very similar processes to me in focusing on unit and integration testing at the expense of functional testing. There's lots of stuff like that in there so hopefully you'll enjoy the fracas.
And about Ruby Inside? I didn't want to front load the post with excuses but I've been busy renting and setting up a new office from which to expand my empire (!) so I can now get back into pumping out content rather than inane business stuff and hope to make everything right with you over the next month :-) Thanks for reading.
[ad] 6sync is a VPS company that promises "hosting nirvana" in minutes! No strings month-to-month billing and instant deployment. They go from 256MB instances up to 4 processor 8GB behemoths. Click here to learn more.