What's Hot on Github – November 2008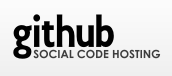 What's Hot on Github is a monthly post highlighting interesting projects that are new or updated this month, within the Ruby community that are hosted on Github. Github has become an extremely popular place for Ruby and Rails developers to congregate lately, so I wanted to list some of the new projects, and some of the updated ones, that I have found interesting and that are too small for their own blog post.
This month's picks:
A special thanks this month goes to the Rails Rumble team as they made some great suggestions based on what people had used for their applications.
Have any projects to add or want to recommend a project for next month's post? Please leave a comment.