What's Hot on Github – September 2008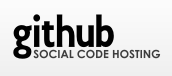 What's Hot on Github is a monthly post highlighting new and/or interesting projects within the Ruby community that are hosted on Github. Github has become an extremely popular place for Ruby and Rails developers to congregate lately, so I wanted to list some of the new projects, and some of the updated ones, that I have found interesting and that are too small for their own blog post.
This month's picks:
Full disclosure: I (Zach) work with the guys who wrote view_specify and we've worked with the people responsible for active_shipping and one_inch_punch.
Have any projects to add or want to recommend a project for next month's post? Please leave a comment.