10 Great New Ruby / Rails Screencasts from July 2007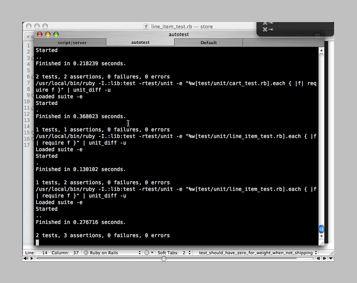 Railscasts, maintained by Ryan Bates, continues to release one great free screencast after another, with 9 so far this month, although we're going to include one from June 29 for good measure. We first looked at Railscasts a few months ago, so if you haven't visited again since, it's worth it. Here are the latest screencasts:
At the same time, Geoffrey Grosenbach, curator of PeepCode (and a new sponsor of Ruby Inside), has been storming ahead with his own set of screencasts, a few of which will be of direct interest to Rubyists / Rails developers:
rSpec Basics - A look at Behavior Driven Development. An ideal starting point if you haven't touched BDD yet but have been intrigued.
Rails From Scratch: Part I - A great up-to-date introductory "course" for getting into Rails. Even includes a free 20 page reference guide to Ruby and Rails, and an introduction to Ruby syntax. It's everything a new Rails developer needs.
Rails From Scratch: Part II - Another 80 minutes of great introductory material for new Rails developers.
While Railscasts' screencasts are totally free, Peepcode screencasts cost $9 each, but for the great packaging, length, and total depth of the material covered, they're still bargains!