Screencast: Coding Conway's Game of Life in Ruby the TDD Way with RSpec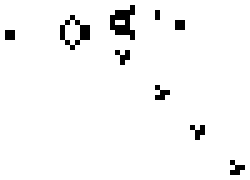 Recently, there have been many screencasts of people coding things in real time. Yesterday, Ryan Bigg released a video of him implementing Conway's Game of Life from scratch by reading through the 'rules' and then using RSpec to take a test driven approach to fleshing out the functionality.
Ryan is a Ruby Hero and technical writer best known for being co-author of the recently released Rails 3 in Action (along with Yehuda Katz) which I'll be reviewing soon for Ruby Inside. But Ryan's also been getting into doing a little screencasting:
If you can't see the video above, view it directly on Vimeo here.
Ryan's technique is just one of many legitimate approaches but many of you will find something to pick up from this, especially if you're not familiar with test driven development or, perhaps, RSpec. If you're already working on koans non-stop and consider yourself well versed in the ways of TDD, you might want to skip it.
The only downside is that Ryan focuses entirely on the logic without doing a live render of the game board to see his work in action, though this was the right rational choice given the time limit. That would make a good separate project to follow on with, though, if you fancy a little challenge, but be careful to not couple the game logic tightly to any interface you choose to try.