"Beginning Ruby" eBook Only $10 For The Next 24 Hours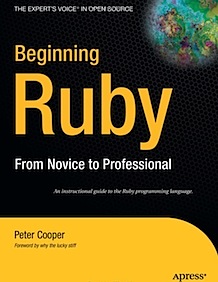 I've had word from Apress that they're doing a one-off 24 hour $10 sale on the e-book version of Beginning Ruby as part of their "daily deal" series. The 24 hours is up - sorry! - but the e-book is still available from Apress at the usual rate of $27.99. It comes as a password protected PDF - no crazy DRM.
Beginning Ruby (Amazon link to the print version) is the ideal book for those new to Ruby, whether fresh to programming or coming from other languages. As well as covering Ruby in a general sense, it also covers the community, a handful of interesting RubyGems, database programming & SQL, object orientation (from the ground up), Rails (though very briefly), and network programming. Not convinced yet? The foreword was drawn by Why The Lucky Stiff, and of the 21 reviews of the book on Amazon.com, 18 give it five stars, and 3 give it four stars (the reviews are well worth reading to see if it's the sort of book for you).
At $10, even if you're a bit beyond the level of Beginning Ruby, it might make a good purchase for a co-worker, family member, or anyone else who's hassling you about Ruby. Feel free to buy a copy and share it around the office. You're probably not meant to, but I don't care because if you really wanted to steal, you can just get it off of BitTorrent anyway :)
Finally, while on the Beginning Ruby theme, Amazon has Beginning Ruby available for the Kindle. It's $23.75, and appears to be the best selling Ruby book on the Kindle so far (which isn't saying a lot, I appreciate).