Cross-platform Ruby Serial Port Library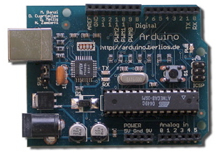 After reading this interesting post about using Ruby and a microcontroller for homebrew electronics projects, I discovered Ruby/SerialPort. It's a Ruby library that works on Windows, Linux, BSD, OS X, and other POSIX operating systems. It's reasonably old, but as demonstrated in the first link, works on OS X pretty well even now in 2006. There's some code demonstrating its use here.
Using Ruby/SerialPort and Arduino, an open-source physical computing platform (basically a microcontroller with a standardized serial interface, it seems), it's pretty easy to connect Ruby to electronics circuits. Tied up with a nice LED display or mini text display, this could become a cute tool for building desktop display devices for showing RSS, weather, etc. Perhaps using these tools you could become the next Art Lebedev?