Ebb: C-Powered Web Server That Uses Rack – Faster than Mongrel *and* Thin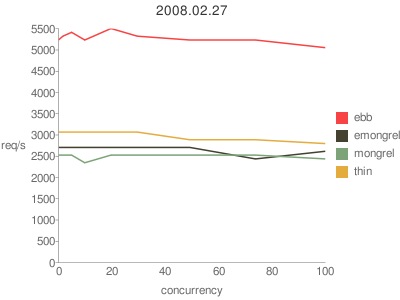 Ebb is a small, extremely high performance Web / HTTP server designed specifically for hosting applications built upon Web frameworks such as Rails and Merb (and, in future, apps on other non-Ruby frameworks.) The design is event based (similar to that used by Ruby daemons that use EventMachine) but Ebb itself is written in C and dispatches requests to Rack adapters. This is a real leapfrog over the popular Mongrel and Thin daemons which are primarily written in Ruby, and results in scary levels of performance.
Since the start of 2008, it seems as if the Ruby and Rails deployment sectors have been on fire! Thin, a Ruby HTTP daemon that's faster than Mongrel, made it on the scene in January, then we discussed the problems involved in deploying apps here on Ruby Inside, and my own SwitchPipe arrived in February. Other systems such as Swiftiply have also continued to innovate. These are exciting times!