Dash: A New Metrics Service for Ruby Apps from FiveRuns

Dash, a new metrics service from FiveRuns, has been moved to private beta (for which you can apply) allowing interested developers to take part in assessing a new way to monitor your applications. The new service from FiveRuns is an extensible monitoring service for gathering metrics from your critical daemons and applications.
Dash collects metrics from your applications using language or framework specific plugins. These plugins collect the metrics and send them to FiveRuns to be presented on your application's dashboard. Information from your metrics is presented in a series of reports comprising of sparklines and line charts.  Reports can present your metrics over different preset time periods.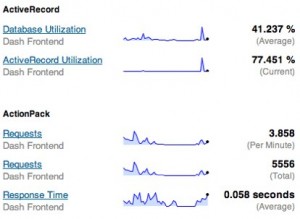 Currently Dash supports Ruby applications and daemons, as well as Rails, Sinatra and Merb applications. Each of these have their own metrics that you can monitor from the dashboard. For example, when you set up a Rails application to monitor, you can collect metrics from Action Pack or ActiveRecord from within your Rails application.
Not only does Dash support Ruby, but it also has built-in support for Python and Java. Not all deployed applications use one application, so it's good to see that other popular languages are also supported.
As well as supporting metrics from with your application, Dash also lets you monitor metrics from outside your application using it's Sensor plugin. The Sensor plugin currently supports nginx, Apache, memcached and Starling. The Sensor plugin is also extensible, allowing developers to extend the plugin further to gather metrics from their own unique infrastructure.
Dash is an interesting approach to the market in that it allows developers to measure the metrics that only matter to them. It's hoped that over time the community can provide a library different types of metrics specific to different frameworks.
For the last week I have used Dash to monitor and collect metrics for a Rails application that is running in a production environment.  The metrics that I have collected have been quite an eye opener and have already allowed me to see where potential bottlenecks can happen.
If your interested in the private beta of Dash then you can sign up to the private beta here.
Post by Matthew Lang - Matthew Lang is an ERP developer with a keen interest in Ruby and Rails programming.