GitHub Officially Launches: Git Hosting A-Go-Go!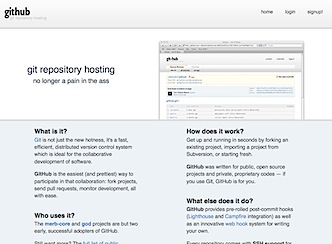 It's been the programming world's worst kept secret, but the covers are finally off as GitHub officially launched today. No more beta invites needed - hurrah!
GitHub is, officially, a Git repository hosting service (where Git is a source code control system - think decentralized, distributed SVN) built by Chris Wanstrath (Err the Blog), Tom Preston-Werner (creator of Chronic and God), and PJ Hyett. GitHub's early users are calling it a "social programming network," a "FaceBook for coders," and all sorts of wonderful things. This is because Git's decentralized nature makes it easy to fork, branch and merge code, and so does GitHub, which makes GitHub an ideal platform for collectively working on software, especially open source.
As of Rails 2.1 (coming very soon), GitHub will be the new official home of the Rails source repository, and the Merb, RSpec, Capistrano, Prototype and Scriptaculous projects are also on board, along with hundreds of other Git repositories created by beta users.
GitHub is a commercial offering (though from two open source devotees), but with an incredibly generous free level, meaning that the service is free for most reasonably sized open source projects (that is, the free level covers that sort of open use). There are, of course, a wide range of plans available for the whole gamut of users.
If you haven't yet given Git a go, don't fear, as a round up of Git tutorials, tips and tricks (with a Ruby slant, naturally) is coming next here on Ruby Inside. That said, I've just noticed InfoQ has already posted something similar, so read that if you're feeling impatient.