How To Find Ruby User Groups

Ruby User Groups (RUGs, for short) are typically informal organizations put together to encourage Ruby developers with certain areas to get together, share ideas, and, often, to have some fun. If you're lacking for inspiration or want to get to know some Rubyists within certain parts of the world (or just around the corner, if you're lucky), heading to a Ruby User Groups' meeting can open a lot of doors. But how can you find them?
RubyUserGroups.org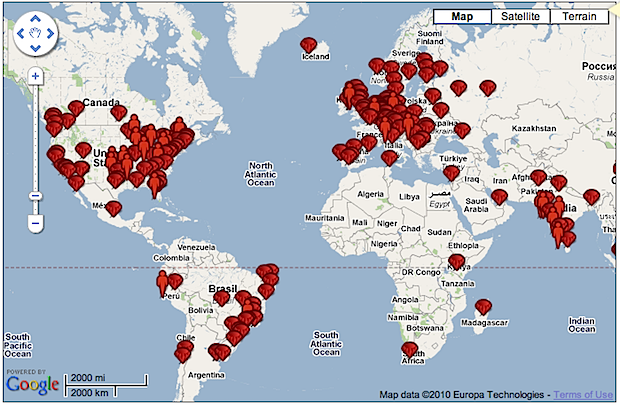 RubyUserGroups.org is a new site by Joe Pym and Karl Doody (who run the West Midlands RUG) that presents you with a map (centered on your current location) with all of the local Ruby user groups located. If you're starting a RUG or your favorite one isn't listed, you can sign up an add it. There's also a giant list on the front page of all of the RUGs worldwide if you'd rather scroll through. There are RUGs as far afield as Tunisia, Cambodia and Madagascar!
Ruby.Meetup.com
Ruby.Meetup.com lists 104 RUGs, and the benefit of using Meetup.com is that many of them use the site to co-ordinate their events, so you find out when the next meetup is occurring, etc. Meetup's indexing of previous attendees also gives us an insight into the most popular RUGs: San Francisco, Silicon Valley, Los Angeles, East Bay, and NYC coming in top with 700-2000 registered followers apiece.
Rubyists.EU - European Rubyists Unite!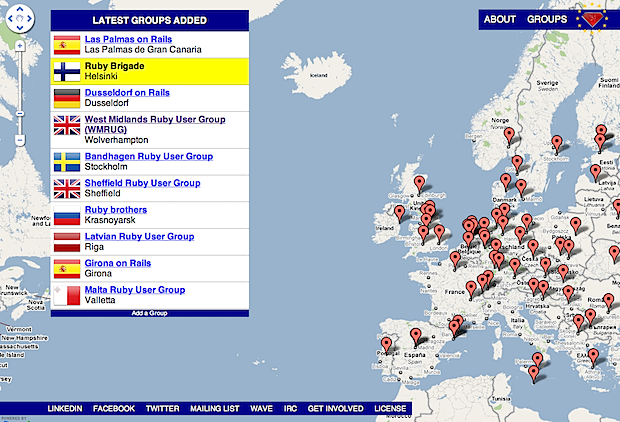 Rubyists.EU is an attempt to unite European Rubyists. It's a well designed site and as well as showing all of the known European RUGs on a map, there are FaceBook, LinkedIn, and Twitter feeds to keep track of, as well as an IRC channel and mailing list.