Rails 3.0 Beta/Prerelease Available Now and How To Install It

Today, Rails core member Jeremy Kemper dropped the words that lots of ardent Rails developers have been waiting for: "Rails 3 beta is LIVE." It's true! Rails 3.0's first approved beta/pre-release version is now live and ready for you to install.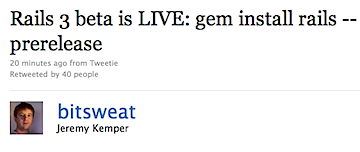 Unfortunately, the installation process isn't as easy as Jeremy explains. RubyGems doesn't support the installation of prerequisites on pre-release gems, so you need to install them all manually. I think I have some instructions to cover that (works on 1.8.7 and 1.9.1):
gem install i18n tzinfo builder memcache-client rack rack-test rack-mount erubis mail text-format thor bundler
# remember to prefix with "sudo" if your environment needs that
And then, finally:
gem install rails --pre
Worth reading next is a retrospective and summary of the work done for Rails 3.0 so far by Yehuda Katz.
[news] @peterc here! My next "big thing" is a new site called coder.io. If you're into technologies like Ruby, Git, Python, the iPhone, MySQL, JavaScript, Clojure, etc, you might want to get on the coming soon list for some eventual freebies/bonuses along with exclusive early access. Thanks!