Joyent Slingshot and Connector Go Open Source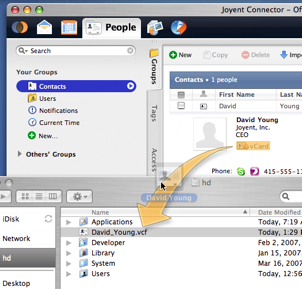 Remember when we first announced Joyent Slingshot, the technology that lets you run Rails apps within a native Windows and OS X client, a few months ago? Well, both Slingshot and Joyent Connector have just been open sourced, and they're yours to play with now. For those unfamiliar with Slingshot, here's what Joyent have to say:
Joyent Slingshot allows developers to deploy Rails applications like a standard desktop application, which work online and offline (with synchronization), have drag and drop, and interact with all the other desktop applications.

With Joyent Slingshot:

* Create a hybrid Web/desktop application
* Synchronize online and offline data
* Use the same code for online and offline application(s)
* Deploy and update your application easily
* Drag into and out of application
Joyent Connector, a suite of collaboration and communication applications for small businesses, has also been open sourced. While not such a big deal as Slingshot, in my opinion, this is a significant move, on a par with, say, 37signals opensourcing BaseCamp (which I bet will never happen). If you want to see how a BIG Rails application is put together, check out the code.. there are about 60 models in there!