My book, "Beginning Ruby", published today!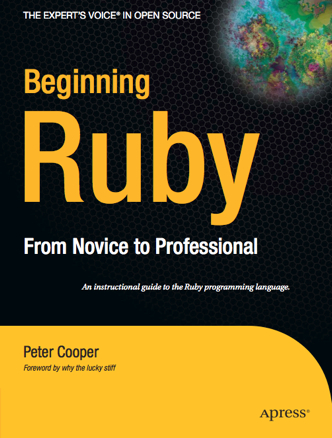 My book, "Beginning Ruby", was released today and is ready to buy (and read!) immediately in print and e-book forms.
Beginning Ruby is a complete beginner's guide to Ruby and ideal for both people who've not programmed before or those who've done a little programming but don't understand the finer details (such as OOP, dynamic languages, or scripting). Beginning Ruby is a little like the Pickaxe but for people who want more hand-holding and less reference materials (ideal for managers!). Actually, it's even a bit cooler than the Pickaxe because the rather amazing foreword is by why the lucky stiff!
You can buy the book in print form from Amazon.com and Amazon.co.uk or even directly from Apress where sample chapters are available. If you buy direct from Apress you can also get the e-book version for just $20. If you've ever wondered how you can support Ruby Inside, do consider buying a copy as it'll make me feel very happy indeed, and help keep the Ruby book industry vibrant, especially for Apress who are backing a lot of Ruby books lately, such as Beginning Ruby on Rails, Beginning Ruby on Rails E-Commerce, Google Maps Applications with Rails, and several in the pipeline I can't talk about yet.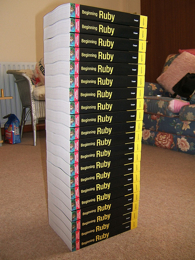 Back in May 2006 I began to write Beginning Ruby, my first book, and today I received twenty copies of it (above). I wrote Beginning Ruby because I wanted there to be a true entry-level, but comprehensive, book covering the Ruby language, and I hope the Ruby population increases with it. At the same time I started Ruby Inside. Ruby Inside was intended to act as a promotional blog for the book. Things didn't turn out quite that way though, and now you're one of thousands of experienced Ruby developers who come to Ruby Inside to learn about the newest Ruby projects and news on a daily basis. It's definitely been a serendipity though, and I wouldn't change it at all. In fact, Ruby Inside has become more important than the book.
Over the next couple of weeks I'm going to post a few times about the book, how it's doing, how I wrote it and how I'm publicizing it. I want to provide some inspirational info that, perhaps, will encourage more people to write and promote Ruby books and continue to drive forward the ecosystem surrounding our favorite language even further. There will also be a contest very soon where you will be able to win a copy of the book, so if it's beyond your budget, or if you're not even able to buy it in your country, don't fear.. there'll be a chance to win a copy soon!