The Official Ruby Site Is Proudly Maintained by No-One

Official project sites should set the benchmark for standards relating to that project in terms of the best quality and most up to date news updates, documentation, download links, tutorials, and so forth. On this front, Ruby's official site at ruby-lang.org is doing a bad job (in the English language variant, at least).
Update: Since making this post, people have begun to volunteer and existing volunteers have started to update the site. The Download page now lists alternative implementations :-) Congratulations to everyone who stepped up. This means this article may progressively become out of date, so please read it in that context, since the problems may get fixed soon :-)
The site's footer says it's "proudly maintained by members of the Ruby community" and links to the homepage of the rather anonymous Ruby Visual Identity Team who redesigned it 5 years ago. Sadly, though, the site doesn't seem to get much proud maintenance and as, perhaps, the most popular destination for newbies checking out Ruby on a whim, it's not playing a strong hand.
Note: I'm not picking nits for fun here. As someone who depends upon Ruby's popularity, I care about this topic and if shining a spotlight on the site's flaws will help people rally around, discuss the problems, and eventually work on a solution, I'm more than happy to accept the flak for being the grump who kicked it all off ;-)
Let's tour a few areas:
The Homepage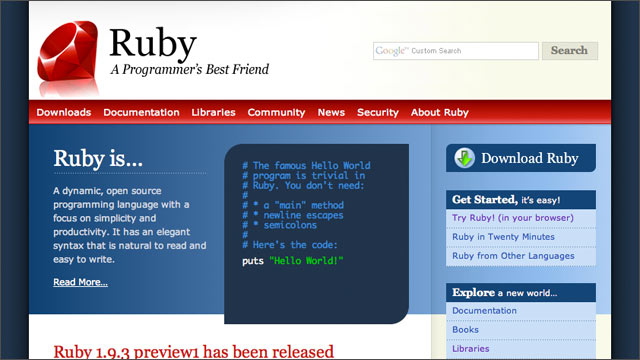 The homepage is the best part of the site, mostly because it's automatically updated with a blog. The latest item is from just yesterday and covers the Ruby 1.9.3 preview 1 release (though Ruby Inside covered it before the official site and in more detail!).
The simple, snappy definition of Ruby is good, and the randomly changing source code example is OK for such a tiny chunk of code. So far, so good. There's not much to pick on here, but things fall down in the sidebar a little:

The "Some Top Ruby Projects" section is a randomly changing list of mostly dead or hardly ever updated projects and, worse, it links to Rubyforge for every one, despite Rubyforge rarely hosting the latest version of any of them anymore. The "more" link heads to Top Ruby Projects, a list of top Ruby projects in the prior decade, it seems. Entry #5, rubot, hasn't even had an update since April 7, 2008. I dread to imagine what newcomers think.
The Libraries Page
The libraries page is a long time favorite of mine. Earlier this year, I ranted on Twitter about the Libraries page specifically recommending you install a 4 year old version of RubyGems (version 0.9 - we're up to 1.8 now!) James Edward Gray II picked up on my comment and had it updated to 1.7.2.
Still, though, it's like reading a cookbook from the ruins of Pompeii. Its two top suggestions for finding libraries are RubyForge and the Ruby Application Archive. It even says RubyForge is a popular home for Ruby libraries. If this were true, Ruby is hosed because there were only 14 updates to libraries hosted on RubyForge in the whole of July. The Ruby Application Archive, on the other hand, boasts a whole 5 updates in July. These are the only 2 ways suggested to find libraries.
The libraries page also gives some handy tips on how to install a gem... using a gem that doesn't even exist anymore! Then out of nowhere it randomly refers to "Gemcutter" as the official repository, a moniker that hasn't been used for ages now.
Downloads
The Download Ruby page is, I suspect, one of the most popular. Sadly it's one of the most flawed.
Despite MRI being only one of many implementations, it fails to make any reference to other implementations (the Python download page gets this right) and then runs straight into offering up the raw source code to the latest versions of MRI, rather than providing any useful instructions for average users. Why no links to JRuby, IronRuby, Rubinius or REE for people who would be better served by those implementations?
The Ruby on Windows section links to some out-of-date Ruby Installer versions.
The Ruby On Linux section recommends that installing "the current stable version of Ruby 1.9.1" (wildly out of date) is an easy and elegant way to go on Ubuntu or Debian. Sure, if you want to put up with segfault-o-rama and library incompatibilities.
The Ruby On OS X section kicks off with the state of play on Leopard (OS X 10.5 - now two versions out of date) and recommends using MacPorts to install Ruby, despite the popularity of RVM.
This is core bread and butter stuff. People who are new to Ruby are going to be hitting the Download Ruby page in their hundreds daily, no doubt, and they're getting fed a poorly organized pile of out of date information.
The News Blog
As previously mentioned, the front page is taken up mostly by links to news updates on the blog, which doubles up as the "Recent News" section of the site. I've picked on this before, but the quality of the news leaves much to be desired. On the Ruby 1.9.2-p290 release, little was said:
Ruby 1.9.2-p290 is released.

This release doesn't include any security fixes, but many bugs are fixed in this release.

See ChangeLog for details.
Shota Fukumori
Other than the download links, that was the entire post! But I saw enough people asking on Twitter and Reddit what the changes were that I crawled the Changelog and wrote my own post for Ruby Inside. Not Pultizer winning stuff, but the bare minimum I'd expect from a "proudly maintained" official home page for a language we supposedly all care about.
I'd comment on the quality of the core documentation on ruby-lang.org too, if I could, but the sluggish, de facto pseudo-official site for it at ruby-doc.org isn't even maintained by the core Ruby team, but by James Britt. (And we should certainly congratulate James for this long standing and mostly thankless task, but why isn't it maintained in any official capacity?)
Not All Bad
It's definitely not all bad news. The About Ruby page remains relevant, the Security page seems to get updated, and there are links to some useful external resources like user group listings, an IRC channel, and the main mailing lists. I've always enjoyed the Ruby From Other Languages page too.
I also need to stress that I, for one, appreciate the effort put in by people to produce the site so far. But it clearly isn't living up to its ideals. We have so many great developers in the Ruby scene and it'd be great to have even more, but with such a lacklustre site, it almost looks like Ruby is dying on its arse.
So why should Ruby put up with such a poorly updated, beginner-unfriendly and next to useless official site? Answers on a postcard to the Ruby Visual Identity Team, whoever they are, or perhaps just in the comments here. (And, yes, I suspect the Ruby Visual Identity Team is these folks but you shouldn't need to Google to try and guess that..)
Added: It is important for me to stress that my comments are entirely directed at the main English language version of the site and not necessarily the localized, foreign language editions of the site. I have been told many of these are far more up to date and have more active maintainers. I apologize if I offended anyone who felt I was including their localized sub-sites in my comments.