Promote Your Ruby and Rails Job To The Largest Ruby Audience
Are you looking for a Ruby and/or Rails job? Check out our Ruby and Rails Jobs Board.
Want to get your job in as front of as many Rubyists as possible?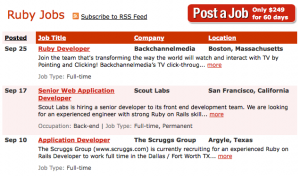 Since 2008, Ruby Inside (read more about us here) has featured hundreds of job advertisements for companies who need Ruby and Rails developers. We've helped companies like New Relic, Expedia, TechCrunch, The National Events Company, Scribd, AboutUs, and Brightbox look for people to fill their Ruby and Rails positions.
To post your job right now, click here or visit http://ruby.jobamatic.com/a/jbb/post-job.
How Much Exposure Will Your Listing Get?
As well as being featured on our Ruby Jobs Board, your job will also feature:
in a job listing box that appears on every Ruby Inside, Rails Inside, and RubyFlow pageview (~450k pageviews in 60 days). The unit features 5 jobs at random (changing each hour) so your listing will appear on between 1/3 to 1/2 of those views (i.e. 150-225k pageviews).
in a blog post on Ruby Inside that goes out to all ~26,000 of our subscribers - even if they never visit our Web site!
in a tweet that goes out to our ~9300 followers on Twitter a few hours after you post the position
in a single issue of Ruby Weekly which goes out via e-mail on Thursdays to approximately 14580 subscribers (usually a couple of weeks later)
In terms of Ruby and Rails jobs sites, this coverage is unparalleled. You get the most popular Ruby blog, the most popular Ruby e-mail newsletter, and, to the best of our knowledge, the most popular Ruby news Twitter stream too :-)
Our Rate
Our rate is $299 for a 60 day listing (30 is more typical in our industry but we find 60 well suited for the trickier positions and locations). We offer a group rate for multiple postings (even if they are over a long period) - please contact Peter Cooper at peter@cooperpress.com.

Note: The "Job Title" field on the job posting form is for the job title of the job you're promoting - not your own job title.
The Small Print
1. Please note that the job board is run by Simply Hired and not directly by us. Nonetheless, if you have any issues, we have a direct contact with them and can help you resolve any matters.
2. Due to limitations of Simply Hired's software, you may only be able to post a job using the above method if you (or the billing address) are located in the United States, although you can post jobs that are located anywhere. If you cannot satisfy this requirement or Simply Hired's software fails for you, but still want to promote your job, please contact us directly and we can quote for a custom listing. We can still include you on the Ruby Inside site, in our roundup, and in Ruby Weekly, for example.
3. We do not show every job ad in every venue for the full 60 days straight. A number of random listings (changing constantly) are shown on every Ruby Inside and RubyFlow pageview. Every job makes it into Ruby Weekly eventually. Every job makes it into the special Ruby Inside post. Every job stays on the job board site for 60 days.
Comments