Programming Ruby 1.9 (The New Pickaxe) Now In Print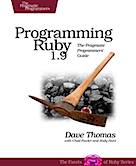 Whether you love it or not, as a Rubyist you probably have a copy of Programming Ruby (also known as The Pickaxe) floating about. It was the first English language Ruby book to be published and was instrumental in boosting Ruby's popularity in the early noughties.
Now, after quite some time, the latest, third, edition of Programming Ruby has gone into print and is now available in both print and PDF/e-book formats. Direct from the publisher, The Pragmatic Programmers , you can pick it up as a eBook + Paper Book package for $59.95, an eBook only for $25, or the print version for $49.95. If you want to save some pennies, Amazon has the print copy for $32.97 (not an affiliate link).
The third edition of the Pickaxe is notable as the only complete reference for Ruby 1.9 (and the standard library) so if you want to be up to speed, fill your boots. O'Reilly's The Ruby Programming Language, by David Flanagan and Yukihiro "Matz" Matsumoto also covers 1.9 but isn't quite as up to date and presents Ruby in a more walkthrough fashion. Programming Ruby now clocks in at a stomping 960 pages, quite a growth on the 800 page second edition..!