RadRails 1.0: A Major Evolution of a Powerful, Cross Platform Ruby and Rails IDE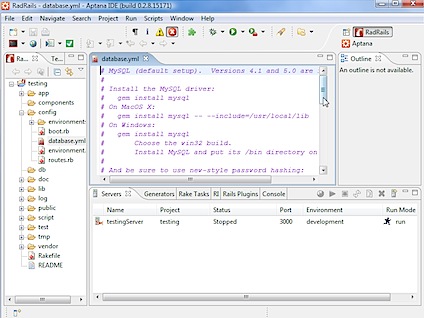 Long-time Rails developers will remember RadRails, a cross-platform, Eclipse-based Rails IDE that became quite popular in 2006, before being adopted by Aptana in 2007. After that, it kinda fell off the radar, but it turns out Aptana has been working hard on it all along and RadRails 1.0 has been released today (an introduction screencast is available for those who'd rather watch than read!)
RadRails is still a Rails-focused product, but with significant improvements that make it an easy-to-use, powerful regular Ruby development environment too. As a general Web developer tools / IDE company, Aptana has integrated RadRails into its Aptana Studio suite which, like the pre-Aptana versions of RadRails, is an open source, Eclipse-based IDE and toolkit, tailored specifically towards Web developers.
The integration with Aptana Studio means that extra tools and functionality are available to Rails developers from within the IDE. Features include:
Adobe AIR and iPhone development plugins
Firefox-based JavaScript debugging
regular expression tester
spell checking
automation tools (using Ruby)
RHTML, YML, HTML, JS and CSS editors with code assist
unit testing integration
All the above features are available for free, though Aptana does offer a commercial version that costs $99 (a promotional rate, at present) that provides Ruby profiling (shown below) and secure FTPS uploading capabilities, along with a JSON editor, IE-based JavaScript debugging, extra product support, a visual XML editor, and more.

RadRails 1.0 supports the regular Ruby interprter MRI (Matz's Ruby Interpreter), JRuby and Rubinius, with JRuby coming included, so even if you're installing on a fresh machine, you can be up and running within ten minutes or so (it takes a while to install all of the gems from fresh.) All of the features are compared with NetBeans and 3rdRail here.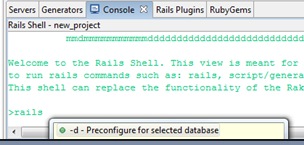 One particularly interesting new feature is the "Rails Shell," a new console option that lets you use the familiar Rails scripts without being forced into using a GUI or plain console. It also features text expansion, tab-completion and tooltips. Here's a screencast tour of the feature. This feature could be particularly useful for experienced Rails developers who don't want to feel constricted by the GUI.
Aptana Studio, coupled with RadRails 1.0, is an impressive development environment for Ruby and Rails applications, and I'd certainly recommend all Ruby developers to give it a try. It looks slick (as slick as Eclipse can, anyway), feels solid, and could make life a lot easier for Rails and Ruby developers alike. Creating a Rails project is close to a one-click process; your app is up and running within ten seconds. Handy tabs for access to specially-tweaked consoles, Rake commands, and the command prompt are easy to find and use, and you get all of the usual IDE benefits in your usual development mode.