Rails Day 2006 has begun – 24 hours of coding madness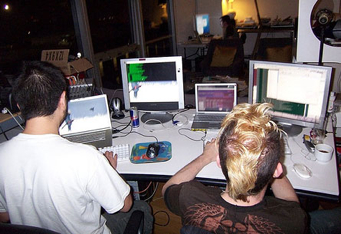 Above: Courtenay's team hard at work.
This year's Rails Day has kicked off. 24 hours of coding madness where you start with absolutely nothing (except a choice of some JavaScript libraries, Rails, and RubyGems) and build an application to wow the celebrity judges. Winners get tons of prizes from a MacBook Pro, a day at an Adaptive Path workshop, through to Web hosting and other services.
If you want to spectate, there's a Campfire chatroom for the purpose, as well as graphs and other information on the commits and svn activity of the participants. The repositories are usually opened up sometime after the contest has finished, so there'll be lots of great code to check out. I'll post again when you can dive in!