RailsBrain: Fast, AJAX-powered Rails documentation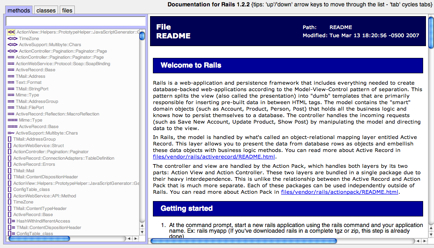 Rails documentation sites are almost ten a penny, but today I was surprised by a new site called RailsBrain. RailsBrain takes the usual "list of methods down the left" approach, but couples it with some nifty AJAX and (so far) a very quick server to serve up the docs in record time.
Being in Europe, I usually notice a couple of seconds here and there when loading pages, but RailsBrain is scarily quick at delivering pages when I click on a method name. Furthermore, RailsBrain makes it a lot easier to find the method you need to documentation for with a "live search" type effect in the left hand box. This definitely replaces api.rubyonrails.com for me in the short term.
(Note: If you're already using GotAPI, this isn't likely to interest you, as what it offers is no better, but is just easier to use on the quick.)