rbiphonetest: Unit Testing iPhone Apps with Ruby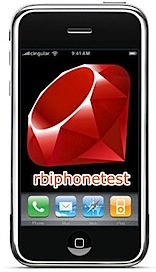 Dr Nic Williams has been busy playing with iPhone and Objective C development lately and, unsurprisingly, has found a way to bring Ruby into the mix. He has developed rbiphonetest, a Ruby-based testing framework for iPhone / Objective C applications that uses RubyCocoa to provide the necessary bridge. As well as producing an in-depth 20 minute demonstration screencast, he has also packed some key information into his blog post.
If you're a Rubyist with ambitions of developing native iPhone applications using Objective C (and perhaps even Ruby one day), it's certainly worth a look (as are all of Dr Nic's projects, of course).