Ruby Featured in User Friendly Comic Strip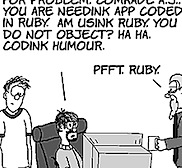 A light hearted entry, but Ruby has featured quite significantly in the latest edition of the popular User Friendly comic strip series. Unfortunately, a bearded Perl and Emacs fan gives Ruby the slap down, but what's new?
Update: It seems this comic strip might not be as new as it initially seems.. see comments.