Ruby Weekly: A Ruby E-mail Newsletter from Ruby Inside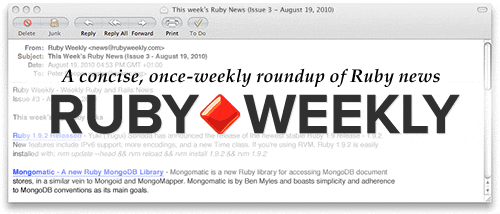 It's time to unveil my latest project: Ruby Weekly, a once-weekly e-mail roundup of 10-20 Ruby related links with a few sentences on each. It's had a brief alpha testing period and it's now ready to roll.
Click here to subscribe to Ruby Weekly - it's a one click process. It's also ultra simple to unsubscribe if it's not eventually to your taste.
As well as featuring links and (very) brief summaries, the weekly e-mail will also occasionally include new event, book, and job announcements and, if something significant is going on in Rubyland, a few paragraphs of editorial. The aim, though, is to keep the e-mail reasonably brief, in a plain format, and, above all, useful.
There's been a renaissance in e-mail newsletters in the last year or two and it seemed, to me, to be a great way to get programming related news. E-mail is not to everyone's taste (Ruby Inside will be staying as-is!) but if you want to avoid daily distraction and get a summary just once a week, it's an alternative to reloading Twitter or Google Reader every day. The popularity of the Ruby5 podcast proves there's an appetite for Ruby news in different media (and if you prefer audio, check them out).
Ruby Weekly goes out once a week on Thursdays, so if you subscribe within the next 16 hours or so, you'll get this Thursday's edition (issue #4).