RubyFlow: A New Ruby News Site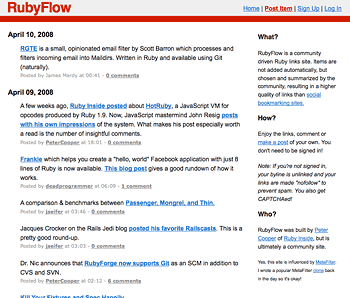 RubyFlow is a new Ruby news site developed by... me over the last couple of days. It will suit developers looking more for a "filtered firehose" of Ruby news.
RubyFlow will be faster, quicker and more raw than Ruby Inside. Ruby Inside will continue with 1 - 2 "you gotta see this!" posts per day (max) but RubyFlow will be the place to go for immediacy and volume. Another big difference is that anyone can post to RubyFlow. You don't need to sign up to post although you'll be CAPTCHAed and suffer rel="nofollow" on your links if you don't (to prevent spam).
RubyFlow was developed because I get a lot of leads and see a lot of interesting Ruby stuff that either repeats something I recently posted about on Ruby Inside already, which is too minor, or which is too niche for the general Ruby Inside audience. RubyFlow will give a way for news about new releases of libraries, interesting blog posts, and niche news to be published. I'll also be able to use RubyFlow as a "tips" site and base Ruby Inside posts on the things I see there.. so if you want future exposure on Ruby Inside, get posting and get noticed!
The entire site and the style posts is heavily influenced by MetaFilter, a very old school community weblog. Basically, it'll be interesting Ruby stuff, one to many links per post, and nice concise explanations. Social bookmarking sites like del.icio.us and Reddit fall down in that you usually only get to read the title of a link (which is useless in many cases) whereas on RubyFlow and MetaFilter links are explained with a small blurb that puts them into context. Keep this in mind if you post, otherwise the style police might tweak your post to fit.