Scaling Ruby – The Informative, 40 Minute Screencast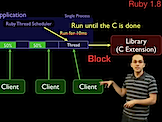 Earlier this month, Rails Envy's Gregg Pollack gave a talk at RubyConf08 called Scaling Ruby (without the Rails). He answered questions like "How do existing Ruby applications use Threads/Processes to scale?", "How do we implement an Event Driven application using Ruby EventMachine?", "What are the current bottlenecks with speeding up Ruby and how can they be fixed?", and "What does Ruby 1.9 bring to the table to speed things up?" From what I hear, it was a very well received and informative session.
Not all of us could be at RubyConf08, however, so Gregg has taken the whole Ruby scalability topic and put together a solid 40 minute screencast called Scaling Ruby (note: it is NOT a recording of the talk - but a separate, professional production). It costs $9 (cheaper than RubyConf, of course) but it's a very solid primer on Ruby scaling issues. Almost every topic is illustrated through Gregg's unique diagrams, and he goes into depth on topics as diverse as event-based applications, threads, Rinda, process messaging, and even "dropping in to C" to write high performance sections of code.
I've been very impressed with the quality of the EnvyCasts I've seen so far, and this is no exception. Lots of practical knowledge delivered in a memorable way. $9 will still seem too rich to many - especially those who think all forms of documentation and instruction should be free (as in speech and beer) - but if it takes Gregg and Jason's fine commercial attempts to encourage others to produce higher quality, free documentation, I'm all for it! They also have screencasts covering Rails 2.2 (see the Rails Inside review) and ActiveRecord.
(Disclaimer: I've received free, promotional copies of the EnvyCasts for review. I have no other relationship - financial or otherwise - with the Rails Envy guys, other than being one of the first to promote them back in the day - doesn't time fly!)