TextMate Screencasts for Rubyists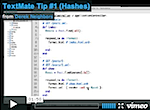 Are you a OS X dwelling, TextMate wielding, Rubyist? I am, but I'm next to useless with all of the advanced features (and by advanced I mean anything beyond Cmd+R). Lucky, then, that Derek Neighbors has started a super-duper series of TextMate Tip screencasts!
So far there are three videos, but I suspect he has more on the way, so if you like the look of them, subscribe to his feed:
TextMate Tip #1 (Hashes) - Derek demonstrates how TextMate can make your life easier when dealing with Ruby hashes, primarily shortcuts to produce a hashrocket (=>), key value pair shortcut, a new hash, etc.
And as a bonus - because I love you guys that much - how about three older Ruby-related TextMate screencasts too?
Credit: Derek's videos found via Matthew Lang's Rubblr.