Win A Copy of "Pro Active Record"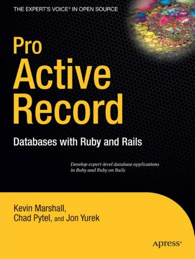 Pro Active Record "Databases with Ruby and Rails" (Amazon) is a new book by Kevin Marshall, Chad Pytel, and Jon Yurek, published by Apress. The book goes deep into the ActiveRecord ORM library, a key part of Rails that makes it easy to deal with information stored within a database in an object oriented way. There are already several reviews on Amazon.com, although Josh Susser has written something more indepth.
To celebrate the launch of the book, the guys over at ThoughtBot (where both Chad and Jon work) are running a contest with three prizes of signed copies of Pro Active Record. To enter, you have to e-mail ThoughtBot with examples of the craziest and most absurd application ideas your clients have come up with. Some examples and details of how to enter are in ThoughtBot's blog post. Good luck!